65th Salon de Montrouge
postponed in October
Beffroi de Montrouge — October-November 2021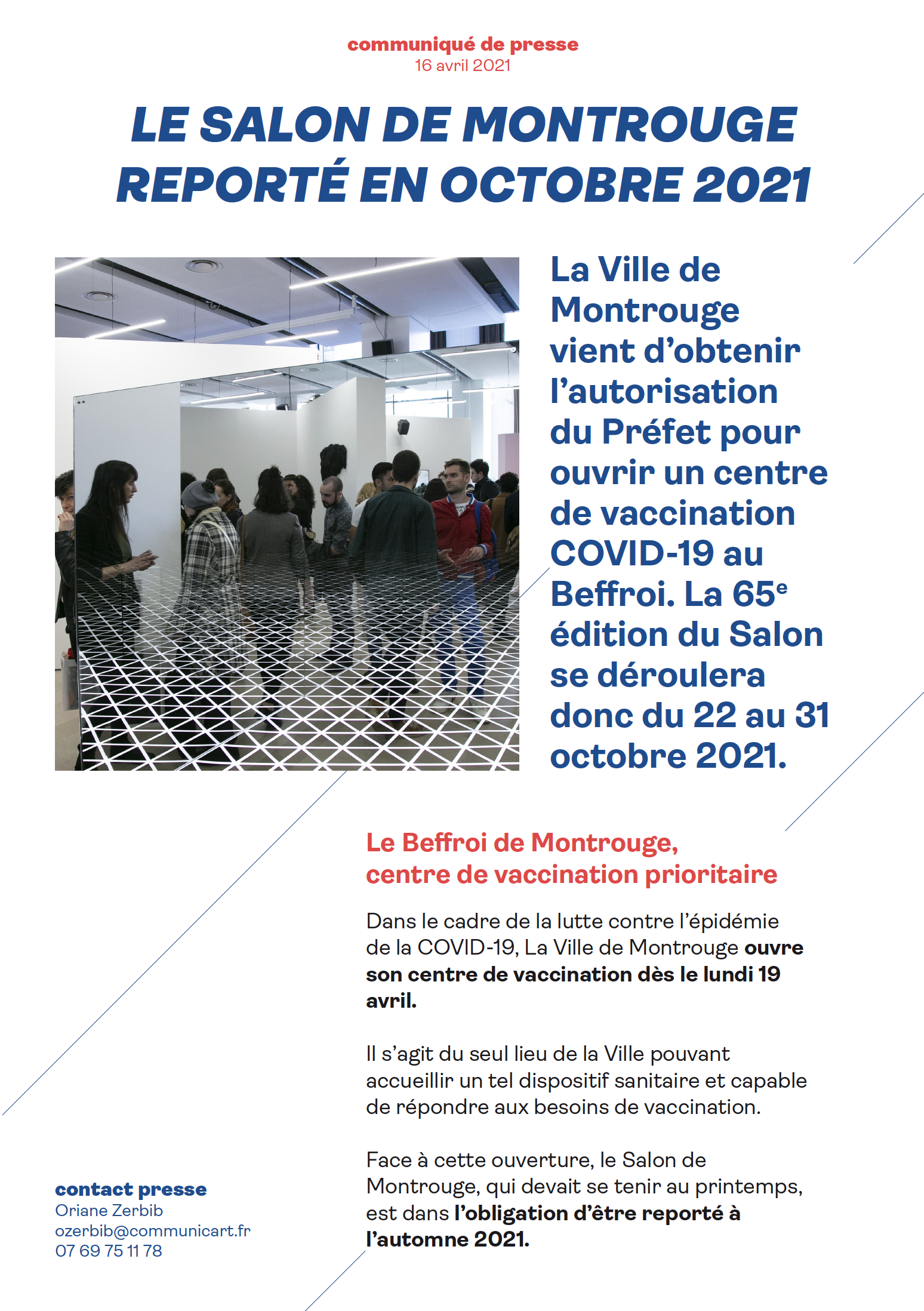 The Salon de Montrouge still committed to artists
Despite a difficult health context, and two successive postponements, the Salon de Montrouge has chosen to adapt and maintain its 65th anniversary edition by postponing it until October 2021.
With this decision, the City of Montrouge wishes to show its deep support to all the artists selected for this edition and its commitment to the entire artistic community to celebrate once again its creativity and dynamism.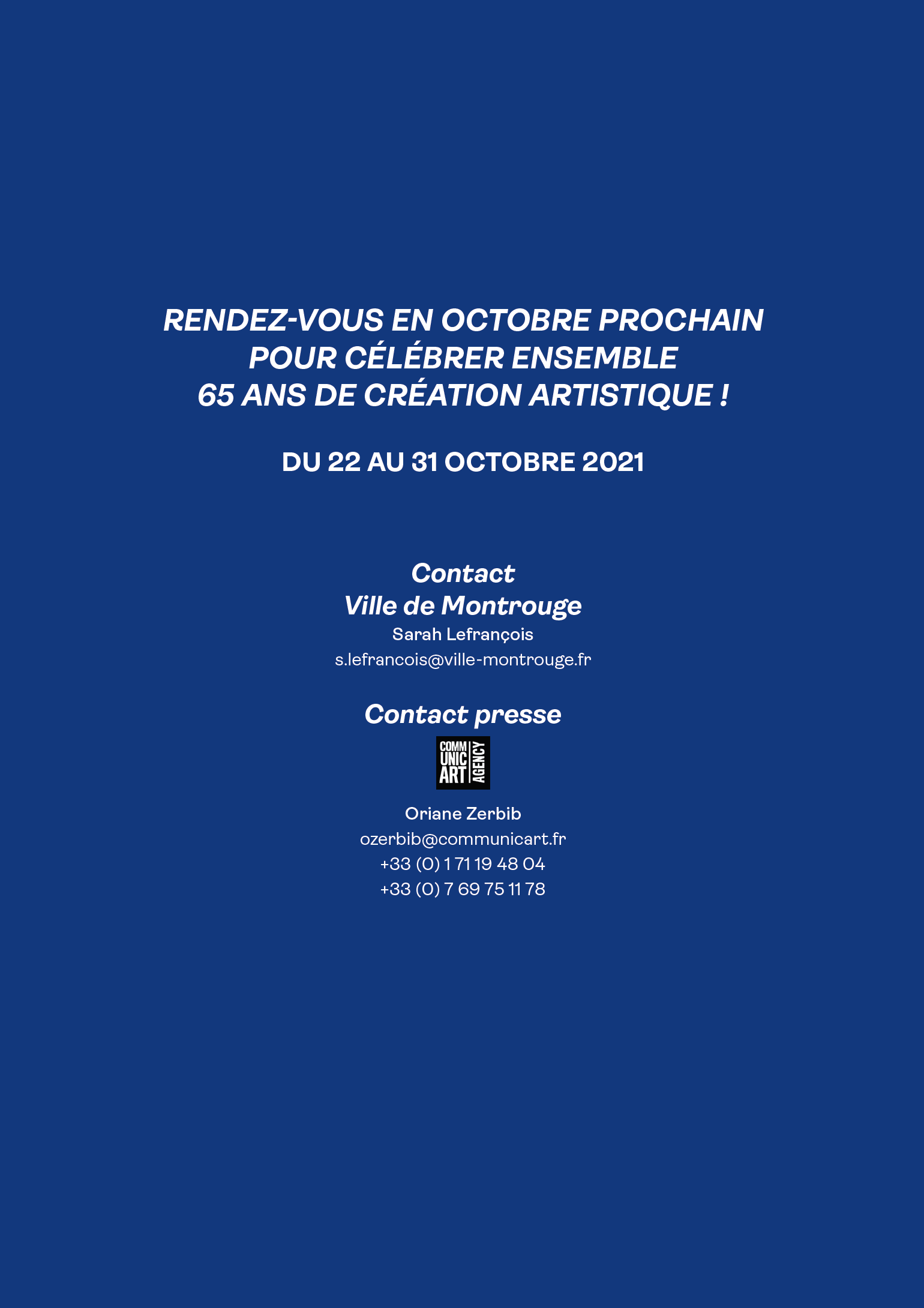 50 artists including 28 women and 22 men for the 65th edition of the Salon de Montrouge
Under the artistic direction of Ami Barak and Marie Gautier, the Committee this year narrowed its selection to 50 young artists, including 28 women and 22 men. 70% of them are under 30 years old.
Alongside French artists, find as every year an international selection with young artists from Brazil, Cameroon, China, Colombia, Ivory Coast, Spain, United States, Japan and Tunisia.
THE SELECTION COMMITTEE
Ami Barak and Marie Gautier - exhibition curators
Pierre Ardouvin - artist
Cecilia Becanovic - gallery owner
Marie Bechetoille - curator and director of the BBB in Toulouse
Sarah Ilher Meyer - independent curator and art critic
Alicia Knock - curator at the Center Pompidou
Pedro Morais - art critic
Claire Moulene - responsible for cultural development at the Ricard Foundation
Isabelle Saltiel - collector
Juliette Soulez - journalist
Clement Thibault - artistic director of Le Cube (Issy-les-Moulineaux), art critic and curator
Tanoé Ackah Louise Aleksiejew Sharon Alfassi Aude Anquetil Gaadjika Théodora Barat Camille Beauplan Guillaume Bouisset Reda Boussella Pierre Unal-Brunet Flora Citroën Côme Clérino comma (Clémence Choquet, Mickaël Gamio) Anaïs-Tohé Commaret Charlotte Denamur Alexandra Devaux Juliette Dominati Ben Elliot Yoann Estevenin Lorraine Féline Bertrand Flanet Valentine Franc Hilary Galbreaith Thomas Guillemet Yuni Hong Charpe Jean Roméo Kamptchouang Hedi Ladjimi Alice Louradour Jordan Madlon Lívia Melzi Adrien Menu Pierrick Mouton Charlotte Nicoli Célia Nkala Pierre Pauze Hatice Pinarbasi Camila Rodríguez Triana Araks Sahakyan Gasparyan & Ramón Rico Carpena Segondurante Maxence Stamatiadis Ana Tamayo Charlotte Vitaioli Yuyan Wang Gaspar Willmann Takeshi Yasura Yue Yuan Mélanie Yvon Julien Ziegler
External links